Wireframes Edit Screen Inspirations
Collection of links and screenshots informing the mock ups discussed at
WireframesEditScreen
While not top notch, still a couple of useful things to borrow from
http://www.dinkypage.com/
click to enlarge
The switch to choose the editor, top right, is much easier to find (and understand) than the small cryptic buttons in our menu bar. When clicking "Change a template" you get a visual representation, which speaks for itself.
click to enlarge
--
ArthurClemens
- 21 Dec 2009 The "Save Changes" arrow looks like a workflow position indicator.
I think that is the intention - after creating and saving, you will view (and share) the page. -- ArthurClemens - 22 Dec 2009
--
MichaelDaum
- 22 Dec 2009 Here are some screenshots of
NatEditPlugin
. Just to assess what we already have.
--
MichaelDaum
- 23 Dec 2009 Here's a screenshot from
EditMe
's latest release: they added a checkbox to the title "update page address based on title". So when the user enters the edit screen and changes the topic title, it optionally also alters the WikiName of the page.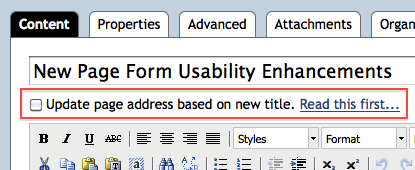 --
MichaelDaum
- 25 Dec 2009 @Micheal: Could you please provide some example screenshot of the tabbed / sectioned forms you were talking about? --
CarloSchulz
- 06 Jan 2010 @Carlo, here are some:
--
MichaelDaum
- 07 Jan 2010 Ok, I see the problems... Now, I need to think about a solution
--
CarloSchulz
- 07 Jan 2010
http://www.jivesoftware.com/builds/docs/jive_sbs_public/latest/user/QuickTour.html
contains screenshots of the jive editor screens --
PaulHarvey
- 07 Jan 2010
http://wikihow.com
shows the save button in a sticky bottom row:
click to enlarge
--
ArthurClemens
- 13 Apr 2010